His father sent him to England to pursue his studies in geology, but Kailasam spent most of his time picking up many habits like smoking and drinking, and evinced keen interest in theatre and stage shows. He took six years to complete his three year degree course, so that he could extend his stay in London.
On his return, he got a job as a geologist in the Mines Department. However he was not keen on pursuing a career in the government and resigned his job subsequently. In the meanwhile he pursued his literary interests and set his eyes on the prevailing theatre scene in Kannada language. Most of the plays staged then were by theatre companies who played on stage mythological stories accompanied by loud music. Kailasam began writing plays based on social issues in easily understood contemporary Kannada. It was a sort of revolution in Kannada theatre which brought him into limelight very quickly despite criticism by traditionalists and cultivated a huge fan following with whom he used to spend most off his time. His father saw in him a social rebel and cut off relations with him.
Kailasam wrote several plays in English and Kannada and has left a huge legacy which is alive even today. He died at the age 64.
T.P.Kailasam had a great sense of humour and his wit was unmatched. His plays are replete with these qualities. His humourous expressions and instant witty observations endeared him to all his followers and fans. Here are some gems from his repertory:
Most anecdotes are best told and understood in Kannada, but here is one interesting story. Once, while Gandhiji was staying for a while at Nandi Hills near Bangalore, there was a concert by the great violinist T.Chowdiah. Gandhiji, enjoying the magnificent music, turned to Kailasam, who sat next to him, and asked, "Who is this great man?" Immediately, Kailasam replied, "Oh, Bapuji, you are a great non-violinist, but this Chowdaiah is a pakka violinist!" He was rewarded with a wide toothless grin.!"
Once when someone mentioned about his soured relationship with his famous father who considered Kailasam as a wastrel, he said, "Initially, whenever people saw me frolicking on the streets, they used to point at me and say, " Look at him, he is Kailasam, the son of the well-known Justice Mr. Iyer. But nowadays, whenever they see my father taking a stroll, they say, 'you know, he is the father of the famous T.P.Kailasam'!"
About his addiction to alcohol, he would say; "I am a pure vegetarian. I cannot drink milk because it is 'liquid beef', so I drink the vegetarian alcohol!"
Once Kailasam shared a coupe with a friend on an overnight train journey. On reaching his destination, when he was asked,' Hope you had a sound sleep?' Kailasam answered, 'I had sound, he had sleep'.
T.P.Kailasam used pun to introduce himself by announcing: 'I am Typical Ass'!
Kailasam interspersed dialogues in his Kannada plays with liberal doses of English, for which he was criticised by orthodox authors. He was given the title of 'Father of Modern Kannada Theatre'
Apart from his sense of humour, Kailasam was a great humanist and compassion was an innate quality with him .
Audio Links to Some of TP kailasam Kannada Songs
He was a great poet too in the English language and he has displayed compassion in his poems:
To a young widowed woman:
Don't cry little woman, don't cry!
They have broken your heart, I know!
O' your Love's young dreams,
Are things of th' long ago!
Fate turn'd your short liv'd joy to dull despair!
And bid you tread this darken'd world alone!
You pass through life, hopeless and desolate,
Your Love: the memory of a star eclips'd!
It is not given to every one of us Little Woman
To bask in the brilliance of the dawn, or to revel
In the splendour of the noon of the day of our life!
But we shall All find, if only we will. a sweet calm sunset
And of peaceful blessedness at the end of this day of our Life!
And peace, no more but peace, is all yours! And
After the end of this day of your life...? ...
...Why! Heaven holds all for which you sigh!
So there Little Woman, don't cry! Don't cry!
*Woman the Eternal sufferer and
Man the conventional consoler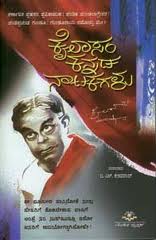 About Gandhiji:
The Recipe
INTO a bare handful of bones and skin
Pour just an ounce or so of flesh and blood;
Put in a heart love-full as sea in flood;
Likewise a mind sea-deep and free from sin;
Fix on two jumboo ears, ...two goo goo eyes;
Paint on a smile of babe at mother's breast;
Inclose a soul that caps Himavat's crest
And speech with tongue which honey's sweet defies!
"The Stuffing?": Goat's milk, soya beans and dates;
Now, cover to the brim with suff'ring human's tears
And bake this dish in gaol for one score years;
Take out and "garnish" it with pariah mates;
Wrap up in rag, prop up with lithe bamboo
And serve: The World Redeemer: Our Baapoo!
T.P.Kailasam passed away in 1946, an year before independence.